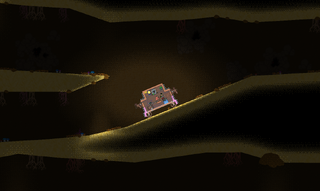 The Deep Cave is a 15 level instance found in the Desert. Currently the Deep Cave can only be found in Survival Mode.
Structure and layout
[
]
The Deep Cave contains 15 moderately big levels with a unique structure that contains vertical and horizontal slopes, making it hard to traverse. The Grappler and the Stickiness augmentations are very useful when traversing the Deep Cave. It's possible to teleport up and down from the Deep Cave by using the main entrance and exit/entrance between levels.
Enemies and resources
[
]
The general area of the Deep Cave contains Bats, Wrots, Stone, Wood and Fuchsia.
Patches and special areas
[
]
Each level of the Deep Cave contains 3 random patches that is mostly found in the corners of the Deep Cave. A patch is an area containing a set of resources and enemies. Most patches only spawns on specific levels, and each patch contains more resources and enemies depending on the depth level.
Patches in the Deep Cave
Patch Name
Can be found at depth level
Resources found in patch
Enemies found in patch
Looks
Copper Patch
1 to 6
Copper
Zinc


Coal




Azurite

(Found in Copper ores)


Rubber

(Dropped by Cave Squids)


Pheomelanin

(Dropped by Cave Squids)
Cave Squid
Iron Patch
1 to 15
Iron


Lead




Azurite

(Found in Copper ores)


Rubber

(Dropped by Cave Squids)


Pheomelanin

(Dropped by Cave Squids)
Cave Squid
Chromite Patch
3 to 11

Chromite




Lead


Water (Dropped by

Chilled Tortoise

)

Chilled Tortoise

Manganese Patch
5 to 13
Manganese


Tungsten




Rubber

(Dropped by Cave Squids)


Pheomelanin

(Dropped by Cave Squids)
Cave Squids
Nickel Patch
8 to 15

Nickel




Tungsten




Slime

(Dropped by Mini Roach)
Mini Roach